پادکست های BBC 6 minute English – Polyglots
8 بهمن 1399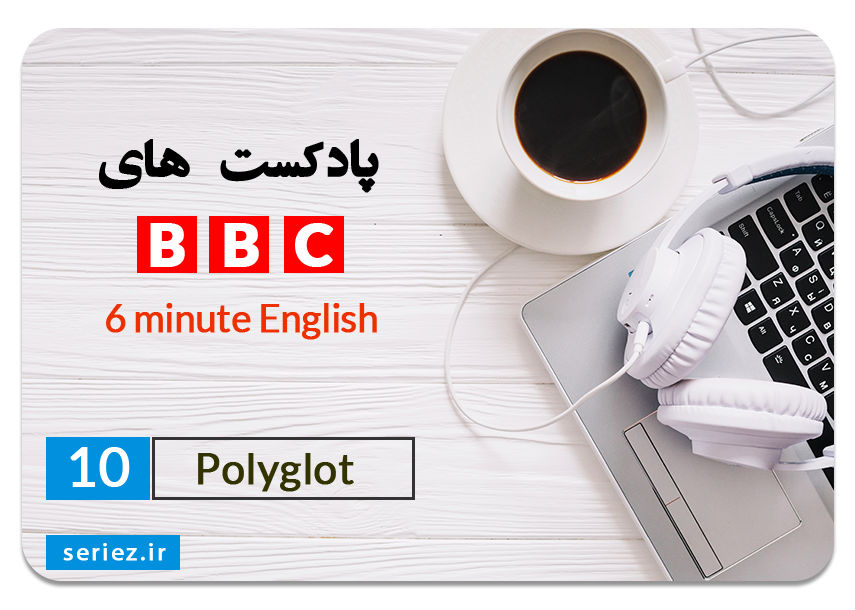 قسمت دهم پادکست های BBC 6 Minute English
در بخش دهم پادکست های ۶ دقیقه ای بی بی سی، 6 لغت مهم با محوریت موضوع polyglot (آ آدم چند زبانه) بررسی می شود.
ابتدا پادکست را بدون متن گوش کنید.
آن را دوباره  به همراه متن گوش دهید و
در مرحله آخر لغات آن را مرور کنید.
پادکست شماره 10 (Polyglot)
polyglot

چند زبانی
Ex: New York is an exciting polyglot city. 
نیویورک یک شهر چندزبانه جذاب است.
identify with  همزادپنداری کردن / احساس شباهت کردن
Ex: I didn't enjoy the book because I couldn't identify with any of the main characters.
من از کتاب لذت نبردم چون نمی‌توانستم با هیچکدام از شخصیت‌های اصلی همزادپنداری کنم.
sheer  کامل/ محض
Ex: His success was due to sheer willpower/determination.
موفقیتش حاصل اراده قوی و کاملش بود.
soul  روح
Ex: his soul is now in heaven
اکنون روح او در بهشت است.
proficiency مهارت
Ex: The key to acquiring proficiency in any task is repetition.
کلید کسب مهارت در هر کار تکرار است
efficient موثر
Ex: Nowadays even efficient, lean, well-run industries are failing.
امروزه حتی صنایع کارآمد کم نیرو و با مدیریت خوب هم شکست میخورند.
Neil
Hello. This is 6 Minute English from BBC Learning English. I'm Neil.
Rob
And I'm Rob.
Neil
Bonjour, Rob! Kon'nichi'wa!
Rob
Excuse me?
Neil
¡Hola! ¿Cómo estás?
Rob
Oh, OK, I think Neil's saying 'hello' in different languages – French, was it? And then.. Japanese? And… Spanish? Is that right?
Neil
¡Si, muy bien!
Neil
The English are famously slow to learn other languages. But it seems that Rob and I – and of course you – our global audience here at 6 Minute English – are good examples of polyglots – people who speak more than one language, sometimes known as 'superlinguists'. People who speak multiple languages benefit from many advantages, as we'll be hearing in this programme.
Rob
That word polyglot sounds familiar, Neil. Doesn't the prefix – poly – mean, 'many'?
Neil
That's right, like polygon – a shape with many sides.
Rob
Or polymath – someone who knows many things.
Neil
And speaking of knowing things, it's time for my quiz question. The word polyglot comes from Greek and is made up of two parts: poly, which as Rob says, means 'many', and 'glot'. But what does 'glot' mean? What is the meaning of the word polyglot? Is it:
a) many words?,
b) many sounds? or
c) many tongues? 
Rob
Well, there's three syllables in 'polyglot', Neil, so I reckon it's b), many sounds.
Neil
OK, Rob, we'll find out if that's right at the end of the programme. But leaving aside the origins of the word, what exactly does being a polyglot involve? British-born polyglot, Richard Simcot speaks eleven languages. Listen to his definition as he speaks to BBC World Service programme, The Documentary:
Richard Simcot
A polyglot for me can be anyone who identifies with that term – it's somebody who learns languages that they don't necessarily need for their lives, but just out of sheer enjoyment, pleasure or fascination with another language or culture.
Rob
For Richard, being a polyglot simply means identifying with the idea – feeling that you are similar or closely connected to it.
Neil
He says polyglots learn languages not because they have to, but for the sheer enjoyment, which means, 'nothing except' enjoyment. Richard uses the word sheer to emphasise how strong and pure this enjoyment is.
Rob
As well as the pleasure of speaking other languages, polyglots are also better at communicating with others. My favourite quote by South Africa's first black president, Nelson Mandela, is: "If you talk to a man in a language he understands, that goes to his head. If you talk to him in his language, that goes to his heart."
Neil
How inspiring, Rob – I'm lost for words! Here's another: 'To have another language is to possess a second soul'.
Rob
So language learning is good for the head, heart and soul – a person's spirit or the part of them which is believed to continue existing after death.
Neil
Yes – and what's more, language learning is good for the brain too. That's according to Harvard neuroscientist, Eve Fedorenko.She's researched the effects of speaking multiple languages on the brains of growing children.
Rob
Eve predicted that multilingual children would have hyperactive language brains. But what she actually found surprised her, as she explains here to BBC World Service's The Documentary:
Eve Fedorenko
What we found – this is now people who already have proficiency in multiple languages – what we found is that their language regions appear to be smaller, and that was surprising…  and as people get better and better, more automatic at performing the task, the activations shrink, so to speak, over time, it becomes so that you don't have to use as much brain tissue to do the task as well, so you become more efficient. 
Neil
Eve was testing children who already have language proficiency – the skill and ability to do something, such as speak a language.
Rob
Her surprising discovery was that the language regions of these children's brains were shrinking – not because their speaking skills were getting worse, but the opposite; as they learned and repeated language patterns, their brain tissue became more efficient – worked quicker and more effectively.
Neil
It's suggested that this increased efficiency is a result of exposure to different languages. 
Rob
So that proves it, Neil: speaking many languages is good for the head, heart, mind and soul!
Neil
You took the words right out of my mouth!
Rob
And speaking of words, what does the 'glot' in polyglot actually mean? Was my answer correct?
Neil
Ah, that's right. In my quiz question I asked you for the meaning of the word 'polyglot'.
Rob
I said, b) many sounds. 
Neil
But in fact the correct answer was c) many tongues. You may be a polyglot, Rob, but you're not quite a polymath yet!
Rob
OK, well, let me get my brain tissues working by recapping the vocabulary, starting with polyglot – someone who speaks many languages. 
Neil
The language centres in a polyglot's brain are efficient – theywork quickly and effectively in an organised way.
Rob
Proficiency means the skill and ability to do something well. And if you identify with something, you feel you are similar or closely connected to it.
Neil
Polyglots learn languages for the sheer enjoyment of it – a word meaning 'nothing except' which is used to emphasise the strength of feeling.
Rob
So speaking many languages is good for mind and soul – a person's non-physical spirit which some believe to continue after death.
Neil
That's it for this programme, but to discover more about language learning, including some useful practical tips, check out The Superlinguists series from BBC World Service's The Documentary!
Rob
Bye for now!
Neil
Bye!
حال می توانید به سوال های زیر پاسخ دهید:
How can being polyglot be efficient?
 Is it a good thing for children?
جواب هاتون رو کامنت کنید…